the following is a book review written by the lovely Stephanie Volkmer from the Beauty and the Bookish Blog!

Sixteen-year-old Bri wants to be one of the greatest rappers of all time. Or at least make it out of her neighborhood one day. As the daughter of an underground rap legend who died before he hit big, Bri's got big shoes to fill. But now that her mom has unexpectedly lost her job, food banks and shutoff notices are as much a part of Bri's life as beats and rhymes. With bills piling up and homelessness staring her family down, Bri no longer just wants to make it—she has to make it.
On the Come Up is Angie Thomas's homage to hip-hop, the art that sparked her passion for storytelling and continues to inspire her to this day. It is the story of fighting for your dreams, even as the odds are stacked against you; of the struggle to become who you are and not who everyone expects you to be; and of the desperate realities of poor and working-class black families.
I'm sure y'all know by now, (and if you don't I'm about to educate ya) Angie Thomas released a new book this past week called On the Come Up. If you don't know who Angie Thomas is, well, she's just the queen who has held the top reigning position of NYT's best seller for the past 2.5 years for The Hate You Give. It's pretty widely known.
And now she's released another book. I was able to snatch the arc (advanced reader copy) from the jaws of my ravenous coworkers and was able to emerge victorious with the arc in hand, with only a few minor tears of clothing. (I kid, honestly my one coworker passed it to me on the DL because she managed to sneak it before anyone else, but that sounds a bit boring.)
But to the book. Honestly, I got it because so many teens started picking it up and asking me if they would like it, or their parents were asking "is this appropriate?" (Which by the way extremely frustrates me on so many levels-but that is neither here nor there) And I'm tired of not having an answer for them.
Synopsis: Bri is 16 and wants nothing more than to be the next big rapper, up there with all the greats. But it's difficult when it seems like no one wants her to do anything of her own dreams, and keeps comparing her to who and what she isn't. But will she find out the space to prove who she is on her own, or will she just go with the tide?
Things I liked:
* Jay (Bri's Mom) was probably one of my favourites in the whole book because not only was she always 100% there for her kids, she did mess up and own the things that she messed up on. I loved her voice and it was amazing.
*Friends/strong family circle: I love when authors realize that people need people, like you might not like them much but everyone needs someone and Bri had a strong group of friends around her all the time. It was so great to see "group of friends" instead of "strong silent loner"
*I also liked how we got snippets of the songs and raps that Bri preformed, though I'll be honest I really wanted a soundtrack to go along with this book so that I could hear it in my head, but that's a moot point. 🙂
*I also loved Bri's character arc. I felt like we really saw her grow and change through out the whole novel and it was such a relatable story.
Things I didn't care much for:
*Honestly the cussing kinda drove me off a bit. I know that it sounds like I'm a prude and I know that's the way a lot of people talk, but I just don't care for it in my books. This is just a personal thing, not at all a slam against how Angie wrote because honestly I think that she wrote it really well, it wasn't in there for the shock value at all, it was basically "this is what real life sounds like" but I just personally didn't care for it.
*There were a few times during the story where I felt like there were some weird jump cuts to some unrelated things, but I also think that was part of the arc and the final version will probably tighten those up as well as give a bit more to the background.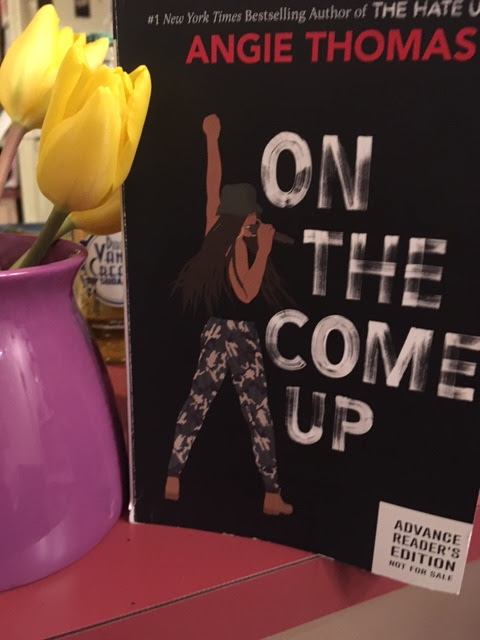 Overall thoughts:
I enjoyed this book a lot. I loved getting in Bri's head and seeing all the actions play out with the writing and the plot and it was amazing. I would recommend this book for anyone who has a dream, who wants to speak out and who is basically On the Come Up.
I gave it 4 stars and can definitely say it's well worth the read.
Happy Reading and remember life is too short for mediocre books!
Give Stephanie  some love in the comments. She worked really hard to get this review up! ♥️